I have three sets of icon textures to share.
Lot's of purples and pinks in this set.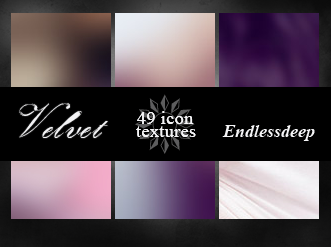 Download - Velvet
( Two more sets )
+ Please credit. I don't necessarily want credit for the textures, I want credit so that other people may find my textures.
+ Please do not take my textures and claim them as your own. I had a problem with this once. Someone used one of my texture sets, that was made from my own photography, to make textures and claimed them as her own without crediting me at all. Now I know why some resource creators get crazy about this. Beside it's just just rude and lazy to claim someone's work.
+ Please do not repost these somewhere else. Link back to this entry.
+ Please do not hotlink.
+ Please comment. I'd like to know if these are useful to you.
Thank you so much for stopping by.